That's entertainment! Operators win by enhancing the wash experience
Car wash is a highly competitive field. Operators battle on price, programs, and overall customer experience. Sites that succeed in this market have to go beyond the basics of clean tires and a spot-free finish to win and retain customer attention. To really keep customers coming back, you have to make the most of the overall experience. Where does your site stand as a source of 'Wow!'?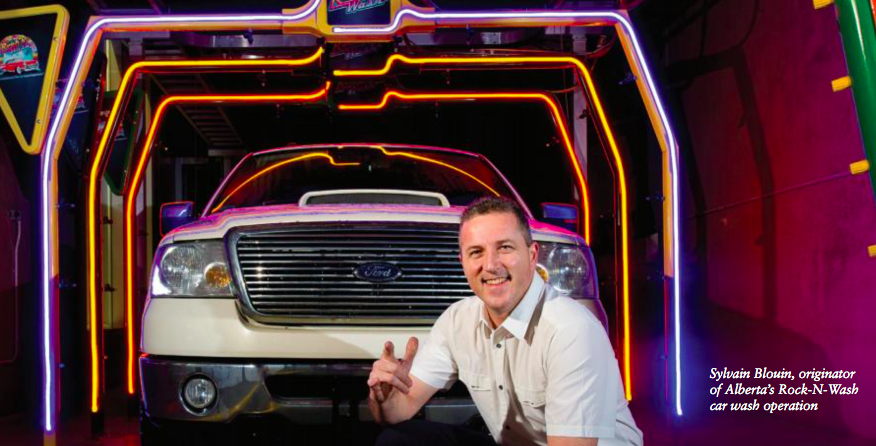 "Upping the experience is holistic, from the minute the consumer enters the site to the minute he/she leaves, everything in between forms part of creating the experience," says Sylvain Blouin, originator of Alberta's Rock-N-Wash and the operator of a new car wash site going up in Sherwood Park.

Blouin remarks that when he developed the Edmonton Rock-N-Washlocation, he had as many as 50 competitors in the area. To win over customers, he stepped up the entertainment level with a dedicated on-site radio station playing '50s and '60s classic hits, displays with coloured foams, and twinkling lights and themed secondary services such as a '50s-style soda counter.

"Be creative, be different, you and only you know the location/market conditions of your wash facility. Have fun with it and make it fun for the consumers," he says, adding that at the minimum the site offered music playing in the background, tri-colour foam brush and foam wax as well as pleasant scents in wash chemicals, and friendly interactive staff.

"Our slogan is 'Revolutionizing the Car Wash Experience®' so, creating a unique, fun experience truly begins during the design stage. We've planned this new facility to offer 12 different complementary services. Our Groovy Rock-N-Wash® fans will be able to enjoy any of our services and use one convenient loyalty payment method for everything and actually earn rewards," he says. Blouin's Groovy Rock-N-Wash will also be hosting weekly Cruise Nights. "Given our theme, there's obviously going to be Rock'n Roll music playing inside and outside of our facility."

According to Blouin, the new site will offer tri-colour foam, laser light show and lava soap/wax in the automatic. "Upstairs we will have a retro waiting lounge where consumers can relax while we detail their vehicles or celebrate birthday parties. The lounge is also where our Groovy Car Clubs meet for their monthly meetings. We'll also maintain our online presence on several social media platforms and continue to interact and build relationships."

Innovation drives market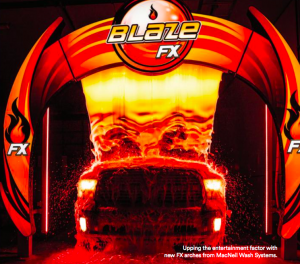 Manufacturers have been pushing the entertainment envelope for years with innovative lighting and chemical products. A leader is TSS, a company that has recently partnered with US-based National Carwash Solutions, a company with brands such as MacNeil and Ryco. TSS has announced Blaze FX, an in-wash lighting and arch display system that generates excitement with a holistic approach to engage the senses.

"When your wash site offers something amazing, people put this on social media and this drives business and loyalty within the younger demographic," says TSS vice-president Bobby Jones. "There is so much disruption in the market, operators need an edge to stay in the game."



Mikiz Pitt Stop dazzles the local market

A good example of a small operator that has stepped up their wash program is Mikiz Pittstop in Lunenburg, NS. Operators Alex and Mike Pittmanhave utilized their PDQ Laser 360 and tri-coloured foam applications to create a twilight laser wash entertainment feature. They report that this utilization of their wash equipment has created an entertainment draw that has families showing up for an evening drive through the facility before grabbing a quick dinner at the site's small takeout café.

"I'm a fan of '60s and '70s culture, especially the cars, and this fits right in," says Alex Pittmann. "People can now drop in during the evening for our Twilight Laser Wash, grab a quick bite and maybe wash the dog all at the same time. It's a package where all the pieces fit together in a community where this is something new. It's a small market and we took a bit if risk with the investment, but it's paying off with customer support.

To a large extent the entertainment factor is the result of the creativity of operators and how they maximize entertainment opportunities using their equipment resources.  Here, Sylvain Blouin concludes, "Focus on the overall experience, and customers will come back over and over and over."



U.S. example points to power in partnerships. Will we see this level of team play in Canada?

In the US, Northfield Park, Ohio, operator RockStop Gas & Wash is offering the 'Vegas' experience to its gas and fuel customers. The site, located about 30 kilometres between Akron and Cleveland, has partnered with the Hard Rock brand and offers a casino (Rocksino) and entertainment complex adjacent to its car wash, forecourt and c-store. The forecourt features Hard Rock-style lighting effects and LED TVs, which broadcast music videos and commercials. RockStop also delivers entertainment with a car wash with soundtracks for guests to enjoy and a full retail store including limited edition Hard Rock merchandise. RockStop also utilizes coloured foams, fruity scents and hard-driving tunes to keep customers thinking about the total experience available at the location, which is Ohio's number one gaming destination.

This article originally appeared in the March/April issue of Octane.